Part 1 with the complete dedication is here.
William Niven (1850-1937)

Was a Scottish born archaeologist and mineralogist that explored the American Southwest and Mexico.
As noted in Lifting the Veil on the Lost Continent of Mu Motherland of Men, Chapter 11 ("NIVEN'S MEXICAN BURIED CITIES") is taken from an article contained in one of James' scrapbooks. The entire article has been transcribed and is contained therein.
James did not quote as much from Niven in the Children of Mu.
As documented in his biography, Buried Cities Forgotten Gods: William Niven's Life of Discovery and Revolution in Mexico and the American Southwest," the first correspondence between William Niven and James Churchward was after the publication in 1926 of The Lost Continent of Mu Motherland of Man. [September 1927] The same source indicates that William and James continued their correspondence for a number of years, although probably not as cordial in 1932 after the incident with the altar when it abruptly ended.
There is what appears to be a letter from William Niven to James Churchward in one of James' scrapbooks, however, there are difficulties. The first being that the letter is sliced through and it is evident that what was on back is now on the front. I contacted William Niven's grandson (Roland Harrison) after the publication of the Niven's biography to ask him about it and he wrote back:
WN frequently included copies of letters from others to him when he was writing to someone else.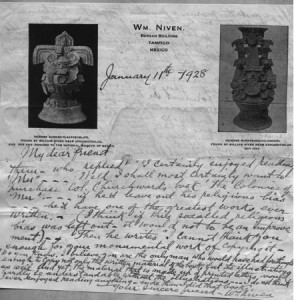 I sent him a scanned copy and his reply was:
The letter that you sent me was indeed written by WN but it was mainly a mixed up copy of a letter from George Fox to WN. Your copy seems to be missing a portion between "My dear friend" and "them – who replied" Very few of the words were those of WN. WN apparently skipped around when copying from the 4 page letter.

Two articles appear in James' scrapbook, Niven's Buried Cities appears in Lifting the Veil on the Lost Continent of Mu Motherland of Men and The Stone Tablets of Mu. An edited version is contained in Chapter 11 of both the Lost Continent of Mu Motherland of Men (1931) and Lost Continent of Mu (1931).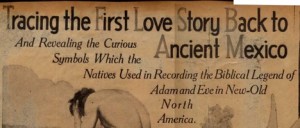 Another article from the scrapbook, Tracing the First Love Story Back to Ancient Mexico, an article from the Newspaper Feature Service (1931) is contained The Stone Tablets of Mu.