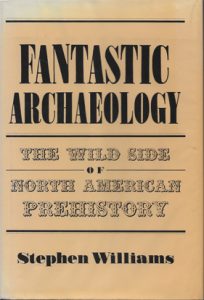 Fantastic Archaeology: The Wild Side of North American Prehistory
Stephen Williams
University of Pennsylvania Press
1991
I found this to be a very informative book discussing discoveries not accepted by mainstream science. Dr. Williams covers each subject in detail, presenting a complete background covering all sides of the issues. He lays out the criteria for evaluating the results of fieldwork, providing helpful hints clearly marking the path to realistic interpretations of the data.
The discussion of my great-grandfather James Churchward originally drew my attention to read the book. Reading Fantastic Archaeology was an eye-opening experience for me in that the book addresses the tablet discoveries of William Niven in the Valley of Mexico. Had I read it prior to writing The Stone Tablets of Mu, I could have included his analysis and treatment of the subject instead of missing it and asking the question, "Why doesn't anyone write about or study the tablets?" My original supposition was since James did not find the tablets and apart from the 2600 unique tablet discoveries, William Niven contributed many worthwhile, credible artifacts to the National Museum. On the other hand, James interpreted the tablets; perhaps some bias was preventing their study. Obviously, my search was not broad enough. There is a rewrite necessary to update The Stone Tablets of Mu.
Persons interested in archaeology will want to read the book to learn about past cases of 'Fantastic Archaeology' and their cyclical nature. Written before the explosion of social media, he shows that old, debunked material recycles regularly, without the extra baggage identifying evidence of a hoax or the commonly accepted interpretation. I have first-hand experience of this cyclical phenomenon with the alleged 'discovery of the Naacal Tablets,' by Thomas Ritter in India sometime in 2010. The 'discovery' was easily debunked (http://my-mu.com/podcasts/pc26.html) in 2011. Earlier this week (July 2016,) the fable again appeared and assumed its place in line as the miraculous story of the day. Did the latest incarnation provide any verifiable evidence or just regurgitate the same story? You already know the answer. Another case also deserves mention, the Kensington Rune Stone (KRS.) Why doesn't the former host of a cable TV show mention the deathbed confessions of Olof's son and a close friend attesting the KRS was a hoax when he discusses it? Never mentioned is evidence and background information that might lead a rational person to disbelieve the veracity of the KRS.
This book provides well-documented information discussing many cases of 'Fantastic Archaeology.' Researchers should probably not use the examples discussed in this book, if they want to be taken seriously.