In Emilie A. Frank's book, Mount Shasta California's Mystic Mountain, the reader becomes acquainted with Abraham Joseph Mansfield, one of the interesting individuals covered in this fascinating collection of tales of the Mystic Mountain.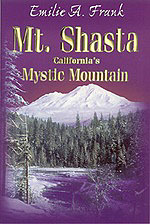 The self-published author of the Golden Goddess of the Lemurians and the King of the Lemurians, Mansfield told colorful tales of the ancient Lemurians living under Shasta. He described great tunnels, rooms lined with gold and storehouses of priceless jewels. The very tall Lemurians lived under Mount Shasta after reclaiming it from a great cataclysm thousands of years earlier.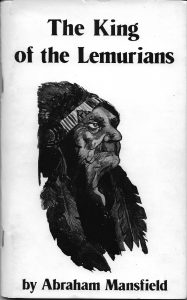 Although James Churchward never mentions the word Lemuria in his writings, Mansfield divulges the little known fact that James was the Chief of the Gods of the Lemurians from 1874 to 1904. He had access to the Plates of Time, treasured and ancient Sciences of God and the advanced technologies of the atom bomb, ESP, electronics, and science known to ancient advanced civilizations.
According to Mansfield, the Plates of Time were assembled thousands of years ago. The Ice Age was coming on, which meant total destruction. The rulers of that ancient civilization were highly educated and had highly civilized sciences including atomic power. They tried to combat the ice flows by melting them. They blew deep holes in the earth; the more melting, the more water, earthquakes, and volcanic action, their civilization was destroyed by the use of atomic power.
The Plates of Time were assembled for future generations to preserve the knowledge they had about atomic power so that a new generation would use it wisely and respect the powers of God, and all things beginning to end, of all worlds and time.
Also according to Mansfield, after James tenure as Chief of the Gods was complete, the role was assumed by Arthur Cowdray until 1934 when during a mental séance, Abraham Joseph Mansfield was appointed Chief of the Gods of the Lemurians.
James never mentioned his participation in this great office, however, it becomes one more accomplishment for my great-grandfather.
Have a great day.