Before he wrote about the Lost Continent of Mu, James Churchward spoke on WNYC on a variety of topics. Recently, the WNYC blog celebrated the 87th anniversary of one of James' broadcasts (WNYC and the Land of Mu or [My-mu.com guestblog].
The article also mentioned Churchward's original WNYC broadcast scripts that are to be published in an electronic format.
In a 'pre-my-mu.com' website, I had collected the various clippings from James' scrapbooks concerning his radio broadcasts and assembled them on a single page. While the clippings were nice, the page did not make the cut, because there was no really no substance to them. Again, I am grateful for the invaluable assistance of Historian (and all-around good guy) Yannis Deliyannis to provide the 'substance.'
Therefore, I need to announce the rebirth of a new/old webpage aptly (I believe,) called 'Radio Days'.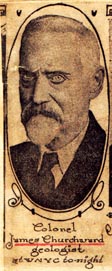 A review on his January 30, 1925 broadcast, printed 87 years ago today read as follows:
Review: Talking of elocutionary stunts and all that, Colonel Churchward at WNYC used the words delicious fish. He did it without making a mess of it, but we "defy anyone to say these two words five times in succession quickly without hashing them. (Brooklyn NY Daily Eagle, January 31, 1925).
In addition to outlining the James' entire appearances on WNYC, there are also some pictures of James from that time period that are different from his normal portrait contained in front of all his books. I must admit, the one I am most looking forward to reading about is 'Hunting Pygmies in Central America.' (My only question: What were they going to do when they found them?)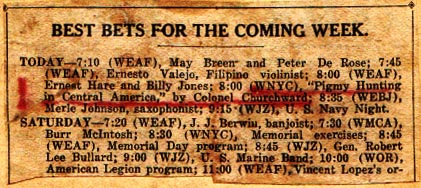 Jack Churchward