In parts 1 and 2, it was established that the artifacts in William Niven's Mexico City storefront have never been found and that there still is interest in finding them, including a Mexican government official, Guadalupe Rivera Marin.
In part 3, letters to the Mexican Embassy to the United States in Washington DC were discussed as well as letters to the successor organization to Senor Marin's office.
The reply did take a while to arrive. First by email with a scanned copy of he two page letter and a few days later saw the arrival of express package with hard copies.
Now, my Spanish language skills are non-existent and require the use of translator. Since the return letter was in Spanish, I turned to an online tool to perform the task. After the excellent communications with the Mexican Embassy in Washington, I thought for sure that my short and to the point letter (not to mention that the first letters were in English,) that it would be an easy answer.
Rule One must be "It Can't Be Easy" because in the reply, there was no mention of the enclosed original letters from 1974-5. What I got out of the online translation was that they knew I was writing a book and thought I wanted to copy materials for the book about Niven's discoveries. They provided a list of reference material and a link. The letter also mentioned that they did not transfer any rights to the material, that belonged to the Mexican state.
OK – nothing about the correspondence that I had written about and enclosed.
On the good side, there were a few references that perhaps I could use for my upcoming book, Lifting the Veil on Copies of Stone Tablets Found by William Niven.
Of the references, it appeared that all referred to the same article/monograph, A Great Archaeological Discovery: The Ancient Tecpanecs in the Valley of Mexico by Ramon Mena. Senor Mena was the chief archaeologist of the National Museum in Mexico City while William Niven conducted his digs. Unfortunately, that particular paper had been criticized as some of the figures inside were found to be hoaxes (see Buried Cities, Forgotten Gods; William Niven's Life of Discovery and Revolution in Mexico and the American Southwest; Wicks and Harrison; Texas Tech University Press; 1999; pages 205-209.)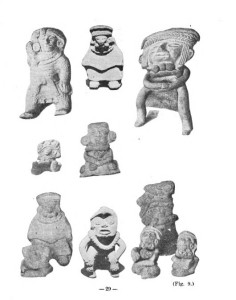 Figures deemed to be hoaxes.
The remainder of the references were Spanish language and were I to find them and try to translate, I would still be typing for the next few months.
Unfortunately, the provided link didn't work either.
So, armed with all this new knowledge, I will embark on a path to uncover the secrets behind the old correspondence, details to follow…