The October 15th 1872 Edition of the 'Overland Ceylon Observer' announced under Domestic Occurences, Births:

"At Parragalla Estate, Gampola, Oct. 9. Mary Julia, wife of J. Churchward. Esq., of a Son."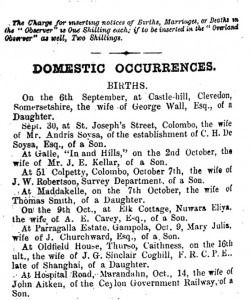 Note that back then to get the Ceylon Observer to publish a notice in the paper it cost 1 shilling, two if it was to also appear in the Overland Ceylon Observer.
The son mentioned is my grandfather, Alexander Churchward, whose obituary is shown below: