In James Churchward's writings about the Great Uighur Empire, he describes that it was the principal colonial empire belonging to Mu at the time of the Great Flood when the eastern half of their empire was destroyed. Also, James wrote that Chinese legends told that the Uighurs had reached the height of their civilization 17,000 years ago. One of his maps is shown below.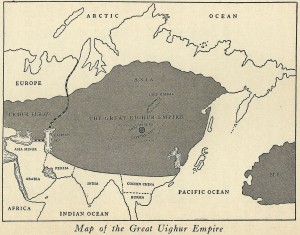 He describes that capital as being in the Gobi Desert 'almost due south of Lake Baikal' and that the capital lie underneath the ruins of Khara Khoto.
Khara Khoto is shown in the Google Earth map below as the southern-most marker. Due to the map's scale, it may not be visible unless the link is followed.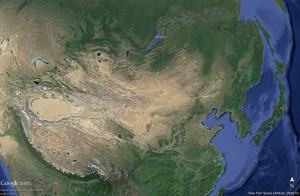 James wrote:
Professor Kozloff unearthed a tomb 50 feet below the surface at Khara Khoto and in it found wonderful treasures, which he photographed, not being allowed to disturb or take anything away.
It is well-documented that PK Kozloff (Koslov,) the Russian explorer, first visited the area in April 1908 as part of a six-man expedition. As shown on the St. Petersburg, Russia Hermitage Museum webpages, that Koslov did actually obtain artifacts from the site. One example is presented below:

Here are some views of Khara Khoto when Kozlov visited:

More to follow in Looking for the Great Uighur Capital Part 2